As a retail store owner, year in year out your dream is always to reap a better return on your investment. Among the key factors of making this possible is running your business efficiently. A mechanism is therefore needed which ensures that all the aspects of managing your business have been automated and at the click of a button you can tell which direction your business is heading, which items in your business are on demand and when they are running out and so on. So what is the better way of achieving this other than using All in One POS system?
What is POS system?
This is a system used for automation of processing orders for services provided or goods purchased and also maintenance of inventory. It can be integrated with other systems such as the customer management system so as to leverage on the data from such systems and get an insight on customer spending trends. Generally it has a hardware component and a software component. The hardware components includes;
i) A printer: its purpose is printing receipts
ii) Customer pole display: shows the customer the items sold and transnational totals
iii) Scanners: Used for reading the bar codes on products
iv) Display monitor: The screen which the operator interacts with to view items and process the final bill
v) Point of Sale hardware: This is where the POS software is installed
The software component provides the operators with an interface to process or select the options related to processing transactions.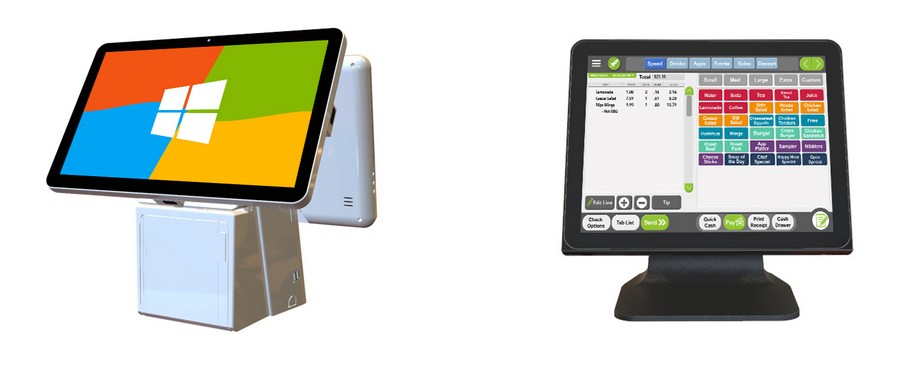 While to most people, the All In One POS system is generally a cash register fitted with a receipt printer, if well explored it can be a powerful tool in boosting the profitability of your business. We shall here in look at ways in which this POS system improves the efficiency of your business.
1. Improved accuracy in inventory monitoring
One of the benefits of using the POS system is its ability to provide real time reports of the current levels of your inventory. Whether running one store, or a chain of stores, any time goods are sold out, the checked out items are immediately updated on the system. This enables you as the business owner to save your time in tracking and maintaining your inventory since the system provides you an up to date picture of inventory levels. This POS system also provides you the capability to set alerts when items reach a certain level. This way you do not order new stock that doesn't sell and have to deal with the aftermath of buying excess stock and running around when on demand stock runs out.
Another aspect of inventory management is being able to easily get to know what your customers want. A great All in One POS system will give you a view of what customers keep coming back for. This way you are able to maintain your regular customers and focus on how to improve the services you are providing to them.
2. Real time sales data reporting and analytics
If you are to run a successful business, accurate reports and analytics are crucial for you. A good POS system will provide an inbuilt mechanism of generating this data. Efficiency in business highly relies on numbers and this capability therefore comes in handy. This way measuring the productivity of your business becomes faster and drawing key decisions in relation to your business performance becomes easier also.
Also this analytics feature give you a good idea of product performance. You are able to easily tell which items are selling fast and which items are making more cash for your business. Also you will be able to tell when sales spike and therefore able to order stock depending on the trends. This way your business becomes more efficient by making accurate ordering decisions depending on the season.
In addition, you are also able to easily track how much money is coming into your business which is also very crucial. Sales is the backbone of a successful business. A great All In One POS system will help you track dimensions such as: sales made over a period of time, sales per product type and sales per customer. This way as a business owner you make decisions from an informed position and therefore the chances of making better decisions are higher than relying on manual reporting.
3. Easier employee management
A good POS system gives you the capability to maintain employee profiles and an option of tracking employee related activities. You can track measures such as: sales per employee, average idle times, average time worked, number of transactions done and their labor costs. Also you are able to track employee remuneration costs such as overtime paid, payable amounts, their pay scales and so forth. Therefore it becomes easier to track this kind of information than doing it manually. This way you are able to make better decisions when it comes to labor costs and optimizing scheduling hence making your business more efficient.
4. Reduced transactional errors
When placing orders and processing them manually, there's a higher likelihood of error. The All In One POS system improves this by providing bar code scanners which matches the item being purchased with its price without an attendant having to key in manually. With minimized errors, you win the customer's confidence and they will not mind coming back; which is the desire of every business owner.
5. Prompt service delivery
It allows attendants to server customers quickly. As earlier seen, the use of bar code scanners and in other cases touch enabled devices makes order placement a fast. This way employee productivity is improved which results to delighted customers and this definitely is good for your business.
6. Improved customer retention
It has built in loyalty features which reward your customer for purchasing your services or products. The modern day customer is well informed of their options. So when they come into your store at the back of their minds is the question: "What is in for me?" With a loyalty enabled program on the POS system, you give then an answer and they will be coming back soon. As the business owner, you can therefore focus on attracting new customers, since this feature takes care of the customers you already have.
In conclusion, if you are looking at streamlining your business, increase sales and improving efficiency, All In One POS system is an investment worthy your money. Remember, at the bottom of any sale is a customer, at the bottom of a repeated sale, is a delighted customer. It is the tool you need to get the repeated sale.